Master's Success Program
Please take some time to view the below video links prior to your interview:
The structure of this training program is a 360-degree approach to learning.  Shortly after enrolling, agents begin our Quick-Start program which is an industry-leading, comprehensive curriculum designed to ground seasoned and new REALTORS with business development skills while providing in depth coverage of contracts, disclosures, inspections and much more, please click here to view a sample calendar.  The speakers during this program are carefully selected as experts in each topic, some of which fly/travel to participate.
Upon completing the Quick-start program, we celebrate by inviting all of our participating agents to join us at "The President's Luncheon"; a gathering at the Paul Hulme's home – our President & CEO of Alain Pinel Realtors.  Although APR has 32-offices with over 1,400 agents, our company is family-owned/operated and we strive to embrace all of our agents as part of the APR family.  During the event, Paul's family and our corporate staff also attend to introduce agents to the culture of APR.
What Sets Us Apart?
Most brokerages would stop at this point and provide only manager assistance as agents proceed forward with their career.  However, at Alain Pinel Realtors, we acknowledge the fact that agents need more than a few of formal training to succeed; thus developing our 1-year program after the Quick-Start program concludes – detailed below.
Weekly Refining – With Some Fun Too!
At the beginning of each week, agents attend a session where we provide comprehensive hands-on training in a classroom setting.  To provide an example of these sessions, during the Quick-Start program, we teach agents the paragraph by paragraph approach to learning the C.A.R. & P.R.D.S. real estate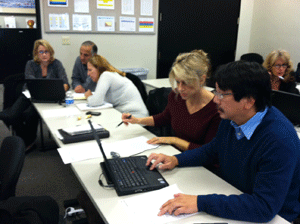 contracts.  Although this approach is necessary to understand the legal nuisances of the contracts, we also believe that agents need to continue learning the art of writing purchase contracts and sharpen their negotiation skills for more than a few days in a classroom setting. 
With that said, these weekly ongoing sessions allow us to team 2-3 agents together to work through a collaborative exercise where we provide an outline/scenario of a real property with agents initially creating a comparative market analysis (CMA) as phase 1; then writing the formal contract as phase 2 of the training.  Upon completing the task, the next few weeks are spent analyzing the work of each team (together as a group) while providing best practice tips and ways to improve the likelihood of receiving contract acceptance in a real world scenario.  This class also includes negotiation skills for working with a buyer client and also how to write counter offers to combat any contract issues while representing sellers as well.
This outline only provides a single example of the curriculum covered during this 1-year ongoing group coaching experience.  Additional weekly topics include: social media, low-cost marketing ideas, geographic farming – the right way, creating a net-sheet, setting yourself apart in the marketplace, quarterly goal setting, creating a routine of ongoing lead generation activities and much more.  We also keep the environment fun with pot-luck's, ice cream days, group field trips to conferences – all while learning important material to build a successful real estate practice.
A Personal Experience – Coaching
History and statistics have proven that agents are far more successful when paired with a successful coach/mentor.  Our Silicon Valley – Regional Director of Career Development, Jim Pojda, works individually with agents to engineer a custom business plan/strategy for each agent enrolled in the Master's Success Program.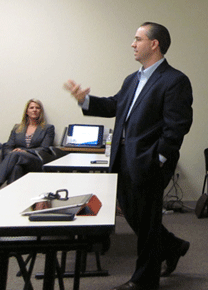 Jim travels to each of our Silicon Valley offices (Almaden/San Jose, Los Gatos, Saratoga & Los Altos) to meet with agents during ongoing scheduled meetings throughout the entire 1-year program time period.  His training philosophy focuses on working smarter while enjoying a balanced lifestyle. The program emphasizes real estate essentials while setting personal, family, business and financial goals throughout the process; thus yielding greater results.
During each session, he provides a task list for agents to complete (in between coaching sessions) while also incorporating audio CD's (to listen to in your car) and books with content ranging from business skills to personal development; customized to the personal needs of each individual agent in the program.
In addition, agents are marketed by a variety of sources and he helps APR agents avoid costly mistakes associated with gimmicks and/or non-effective sales strategies.  For years, he has studied a variety of training styles including those from Floyd Wickman, Walter Sanford, Mike Ferry, Craig Proctor, Tom Ferry, Brian Buffini, Joe Niego, Gary Keller and several others to incorporate a unique coaching style that is diverse and expansive enough to guide agents at all skill levels.
Technical Training
Technology is an important differentiator for APR sales professionals. APR's fully staffed training team continually offers courses at our facilities through classroom, online instruction and self-paced learning. All APR propriety technology, as well as Microsoft productivity applications, online marketing and local MLS services are all covered.
The Whole Picture
In conclusion, our Master's Success Program is designed to provide agents with technical, business and personal training during our weekly ongoing classroom setting paired with ongoing coaching to provide direction and accountability.  The audio CD's, books and other materials are incorporated to keep agents motivated, developing and on-track during the week while agents are building their businesses.
The sequential order for training, upon being hired, is below:
New Agent Orientation Day

3-Hour Hands-on Technical Training

Individual Coaching will begin immediately upon being hired to develop your business plan/marketing strategy

Agents will attend weekly Master's classes each Monday from 11:30-1pm at the Saratoga Training Center

Agents are enrolled in our next session of the Quick Start Program (typically conducted each February, July & November
To be candid, owning your own real estate business can be very complicated, frustrating, lonely and overwhelming – our program is designed to provide agents with a consistent coach and team to lean upon while navigating and building a solid foundation/model that will last for a lifetime.
We invite you to contact Jim Pojda to setup a meeting to discuss career opportunities with Alain Pinel Realtors.
jpojda@apr.com | 408.832.8899